Main content starts here, tab to start navigating
Corporate Gifts and Experiences
DANCIN goes beyond great wines, delivering elevated experiences for corporate gifting, events, and virtual tastings. Our handcrafted wines embody the essence of Southern Oregon's terroir, making them the perfect gift to celebrate holidays and milestones. Whether you're looking to elevate your business relationships, host a memorable event, or provide a virtual tasting, let DANCIN Vineyards be your partner in creating unforgettable moments.
Private Events
Experience a venue like no other, where breathtaking landscapes blend seamlessly with exquisite wines and mouthwatering cuisine. Allow us to handle every detail, from the stunning venue to the finest wines and delectable cuisine, ensuring your event is a seamless blend of professionalism and refined indulgence.
Virtual Tastings
Elevate your corporate gifting with DANCIN Vineyards' exclusive virtual wine tastings. Bring the tasting room experience directly to your clients and colleagues, fostering connections over our exceptional wines. Make lasting impressions through a memorable virtual wine-tasting event curated by DANCIN Vineyards.
Wine Gift Packages
Choose from one of four hand-selected shipping-inclusive packages, or contact our corporate event concierge to customize!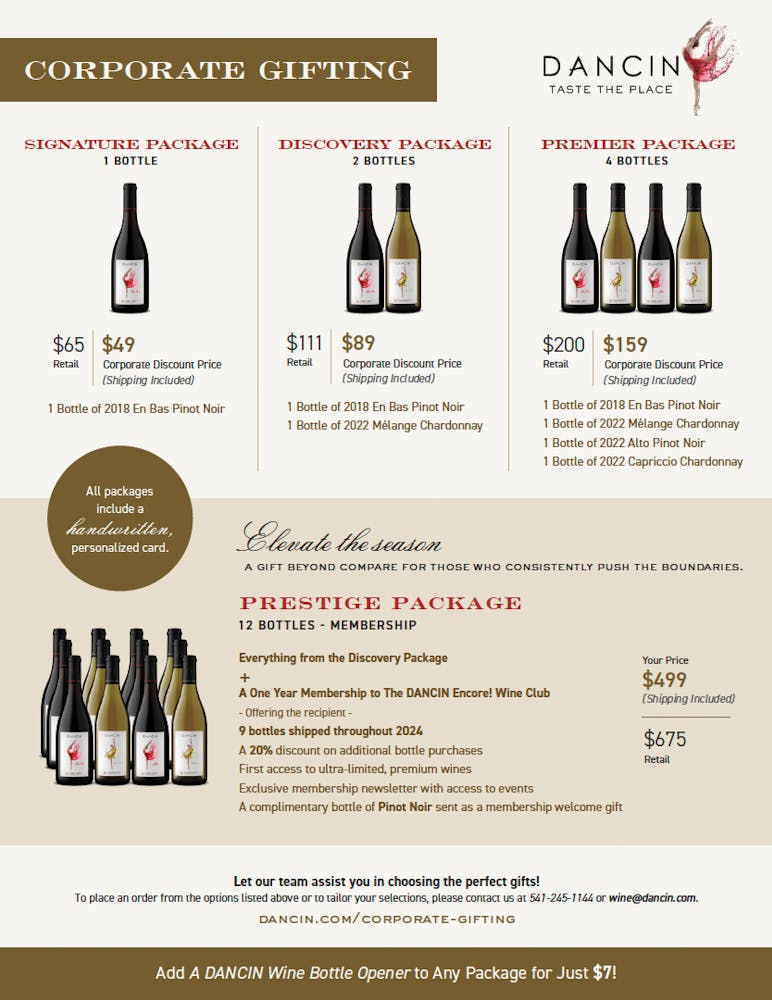 PERSONALIZED, HASSLE-FREE GIFTING
Personalized
Every pack includes a handwritten, personalized card written by the DANCIN team with your text.
Memorable | Easy
Let our trained team assist you in making gifting of any kind memorable and easy.